Written by admin on November 19, 2008 – 8:26 pm
Australia's house prices will soften but should not crash because of the world economic crisis, Reserve Bank governor Glenn Stevens says.

Answering a question from the floor at a business dinner in Melbourne, Mr Stevens said the ratio between house prices and household income was historically "very high", partly because Australia needed to boost its housing stock.
Since as early as 2002 the Reserve Bank of Australia has been warning about the housing bubble, but today it appears the Housing Industry Lobby groups have now recruited Glen Stevens to distribute their spin of a shortage of houses.
This follows comments last month from Ric Battellino, the RBA's Deputy Governor that Australia's housing market has already crashed, and that we are leading the US & UK. Battellino's comments came just days before the ABS released stats showing the biggest housing fall in 30 years suggesting we are actually lagging the US and UK as below.
As for the shortage myth, both the UK and US reported a shortage of houses during the boom. During boom times cashed up households buy holiday houses and investment properties. If developers don't get their asking price, they would rather keep homes and apartments empty because everyone knows houses only go up. Some brand new apartments have been empty for years. However in a downturn and faced with job losses or lack of bonuses these holiday homes go on the market. Developers also bail out at any cost.
Other data from the ABS suggest there is no such thing as a housing shortage, and that the concept is merely in the minds of the Real Estate Lobby groups. The table below show the Average persons per household and that each year we build more homes to accommodate the population growth given that today the average household consists of 2.5 people.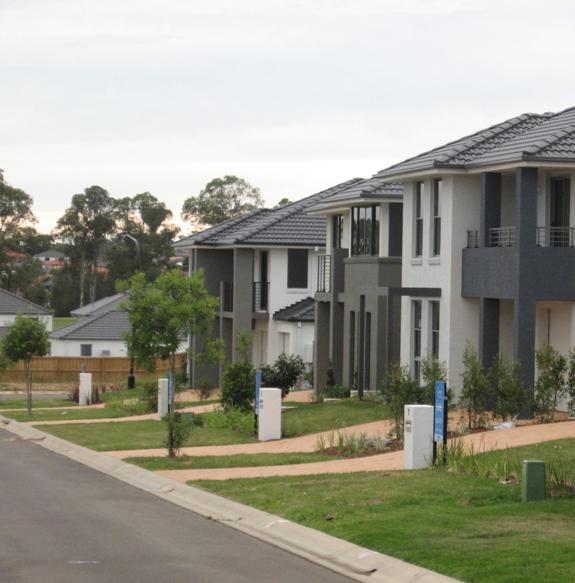 Shortage of houses? : Lines of new houses for sale in Newbury Estate, NSW.
Posted in
Australian Economy
|
Comments Off

on House prices "shouldn't" crash: RBA chief